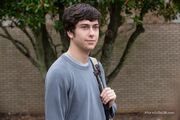 Quentin "Q" Jacobson is the protagonist of Paper Towns. The book is written from his point of view and follows him in his adventures with and concerning Margo Roth Spiegelman, his neighbor, childhood friend and love interest.
Next door to Margo, in Jefferson Park, for much of his life. One day, the two go to the park and come across the body of Robert Joyner. They quickly return home and tell their parents. Margo spends some time investigating his death. She later climbs through Q's window and gives him the report of her findings, telling Q that "Maybe all the strings inside [Robert Joyner] broke". During their senior year of high school, she takes Q out to get revenge on fellow classmates. The next morning, she is missing. Q goes all out to find her and drags along his friends. When they finally find Margo, she is in Agloe, New York in an abandoned shack. Margo stays in Agloe and Q finds her in an abandoned grocery store where they continued their love story.
Ad blocker interference detected!
Wikia is a free-to-use site that makes money from advertising. We have a modified experience for viewers using ad blockers

Wikia is not accessible if you've made further modifications. Remove the custom ad blocker rule(s) and the page will load as expected.