---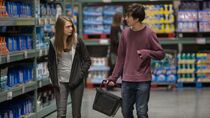 When Margo Roth Spiegelman beckons Quentin Jacobsen in the middle of the night—dressed like a ninja and plotting an ingenious campaign of revenge—he follows her. Margo's always planned extravagantly, and, until now, she's always planned solo. 

After a lifetime of loving Margo from afar, things are finally looking up for Q . . . until day breaks and she has vanished. Always an enigma, Margo has now become a mystery. But there are clues. And they're for Q.

Read more about the book here...

---

Click here for more characters from Paper Towns!
---


Paper Towns was picked up to be made into a feature film. The film will be released some time in 2015. A fun fact is that Isaac from The Fault in Our Stars will be playing the lead character, Quentin Jacobsen, in the film.

---



---

What do you think about the casting for the movie?
---

Loading RSS data...
---

Create blog post

It's OFFICIAL! Looking for Alaska will be made into a movie, which should be released sometime in 2016. There is a lot of buzz about the casting (Anya Taylor Joy and Charlie Rowe are in the running for Alaska and Miles), but we thought it'd be fun …


Read more >

Hi Everyone,

John Green announced in his latest video https://m.youtube.com/watch?v=3KfeUzlpGzE and said that a producer "Becca Thomas" May do Looking For Alaska into a movie even though he didn't want the book to turn into a movie...

Tell me your ide…

Read more >
See more >