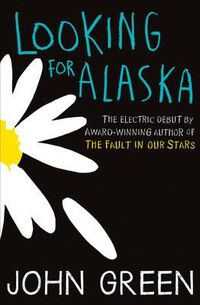 Before.
Miles "Pudge" Halter
 is obsessed with famous last words. So much so that one in particular (Francois Rebelais' "I go to seek a Great Perhaps") has become the driving force behind his relocation out of his nonevent life in Florida and right into Culver Creek Preperatory High School for his junior year. Soon after arrival, he befriends fellow roommate
Chip "The Colonel" Martin
, a five foot tall Alabaman who is obsessed with loyalty and honour, 
Takumi Hikohito, a gifted MC/hip-hop enthusiast, and Alaska Young, t
he gorgeous, clever, self-destructive and utterly fascinating girl who captures Miles' heart, pulls him into her world, and launches him into the Great Perhaps. 
After. Nothing is ever the same.
Read more about the book here...





---

Loading RSS data...
---

Create blog post

It's OFFICIAL! Looking for Alaska will be made into a movie, which should be released sometime in 2016. There is a lot of buzz about the casting (Anya Taylor Joy and Charlie Rowe are in the running for Alaska and Miles), but we thought it'd be fun …


Read more >
See more >